Complying With EPA Power Plant Regulations: Blog #1
|
Tuesday, July 15, 2014 at 01:43 PM
State leaders received the Environmental Protection Agency's Clean Power Plan, released June 2, with mixed reactions. Kansas Gov. Sam Brownback considers the new regulations on existing coal-fired power plants to be "more of the Obama administration's war against middle America." Kansas, like many other states, has an energy portfolio that relies heavily on coal. Other states reacted differently, lauding the EPA's standards to address climate change. Massachusetts Gov. Deval Patrick supported the EPA's proposal saying, "I applaud EPA's new carbon rules, which will unleash clean energy innovation and reduce energy costs while protecting our environment and public health." 
The key word being thrown around now that the dust has settled is flexibility. States are concerned that submitting compliance plans for meeting their 2030 goals will be difficult. In some cases, states may have slower legislative processes or other legal roadblocks, so the June 30, 2016, deadline for submission of individual state plans can be pushed back one to two years for a number of reasons.
That is good news for states interested in joining a multi-state cap-and-trade market because multi-state plan participants can have two extra years to prepare their reduction plans. Other states that can reasonably prove they need more time can seek a one-year deadline extension. Cap-and-trade involves a mandatory cap on emissions and requires all emitters to purchase allowances—or credits—for every unit of emissions they create.
Some states will be able to cut their emissions by more than is expected of them, which creates an opportunity for those states to sell more emissions credits to other states or emitters that may need to have higher emissions because of their state energy landscape. This type of program is seen as efficient because it never fails to reach the desired level of emissions reductions, while it also approaches market equilibrium.
Many consider cap-and-trade a cost-effective route for reducing emissions, and it allows states to come up short on their reductions, as long as they purchase emissions allowances from other states that are more successful in cutting emissions. EPA Administrator Gina McCarthy said in her speech announcing the proposal, "If states don't want to go it alone, they can (…) join up with a multi-state market based program, or make new ones. More players mean more flexibility and lower costs."
The EPA has recommended four compliance options for reducing greenhouse gas emissions from the power sector, and the states can decide the most appropriate combination of those options to reach their individual 2030 goals. Janet McCabe, acting assistant administrator for the EPA's Office of Air and Radiation, outlined those options in her blog: "(T)hey are – 1) improving efficiency at existing coal-fired power plants, 2) increasing utilization of existing natural gas fired power plants, 3) expanding the use of wind, solar, or other low- or zero-emitting alternatives, and 4) increasing energy efficiency in homes and businesses."
As power plants age, their efficiency declines. Questions over the potential retirement of outdated power plants abound. In fact, about 3 percent of the country's coal-fired capacity was retired in 2012, and the average age of those plants was over 50 years old. Efficiency renovations on older power plants are increasingly uneconomical, as utilities anticipate high costs associated with renovating their larger, newer facilities to comply with other EPA regulations. Competition with the growing natural gas industry and stagnant electricity demand, not necessarily the EPA's newest emissions proposal, are considered to be the other two leading factors in scheduled power plant retirements in the future, according to Kentucky Energy and Environment Cabinet's John Lyons.
For utility companies that choose to update existing plants, the first option for reducing emissions recommended by the EPA—improving efficiency at existing coal-fired power plants—could involve numerous methods of reducing carbon dioxide emissions per unit of electricity produced. The first change to old power plants would be the installation of flue gas desulfurization equipment, or "scrubbers," and dry sorbent injection technology to remove harmful gases from exhaust gas. Although scrubbers and the injection technology would do well to increase emissions efficiency, the Congressional Research Service suggests that other federal policies could include tax incentives to encourage the installation of other energy efficiency upgrades to recover the high costs of such additions.
Another technique that has made headlines as the main tenet of clean coal technology is less attainable than scrubbers and the injection technology, but would make coal-fired power plants as efficient as plants that are powered by natural gas. The EPA identified carbon capture and storage technology as a major tool for complying with their standards for new coal-fired power plants, but not for those that already exist. In 2012, about 73 percent of the existing coal-fired power plants in the U.S. were more than 30 years old and are not eligible for carbon capture and storage retrofits. For carbon capture and storage to become a mainstream practice, newer coal plants would need to replace old ones, but the trend toward natural gas doesn't bode well for that development. The U.S. Energy Information Administration's 2012 Annual Electric Generator Report shows the slowdown of new coal-fired power plant openings in favor of natural gas (illustrated below).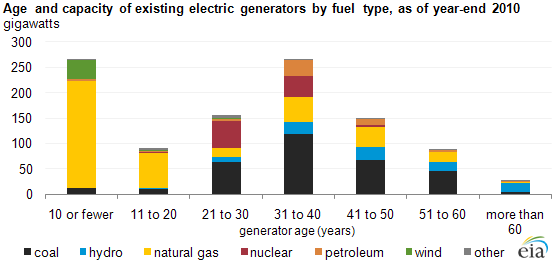 Source: U.S. Energy Administration.